Jeopardy – Conservation Corner
There more than 2,000 kinds of wild mushrooms that are found throughout Michigan, this kind of mushrooms grow best in warm and wet conditions in April when they start popping up around May.
Answer: Morels! For many, spring in Michigan means morels – delicious wild mushrooms, simple to identify, fairly easy to find and generally safe to eat. For the beginning mushroom hunter, the morels are the safest group among the more than 2,000 kinds of wild mushrooms found in Michigan. May is morel month in Michigan, but the actual fruiting period is from late April until mid-June, depending on where you are and what species you are hunting. Contrary to common belief, morels are not confined to the northern part of the state – some of the best picking is in southern Michigan. Visit: https://www.michigan.gov/dnr/0,4570,7-350-79119_92603—,00.html for more information from the MI Department of Natural Resources.
With 50 sharp teeth, more than any other North American land mammal, these animals are known to eat just about anything; dead animals, insects, rodents, eggs, snakes, and can eliminate up to 5,000 ticks in a season.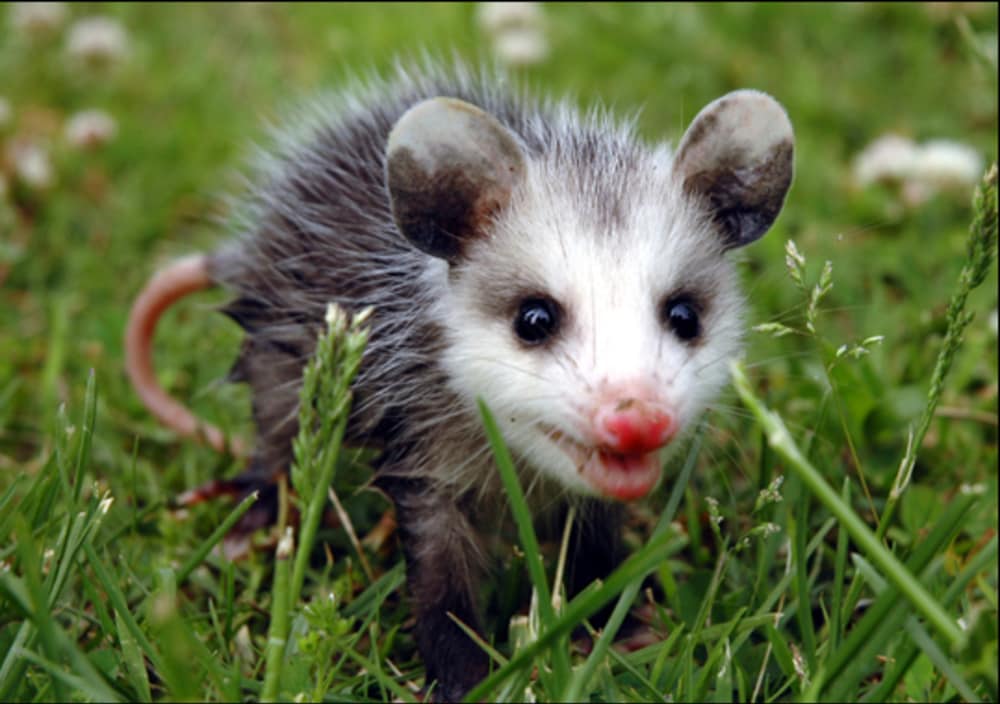 Answer: Opossum! The Virginia opossum is the only marsupial species in North America. Like kangaroos and other marsupials, female opossums rear their young in a fur-lined pouch. Opossums also have opposable thumbs and prehensile tails that they use to help them climb trees. Although their hairless tail and pointy snout gives them a similar appearance to rats, opossums are not even in the same family as rodents. They do not dig holes, although they will readily seek shelter in holes dug by other animals. You might think opossums are vicious because when confronted with a potential threat, they put up a fierce display, baring their teeth and hissing. But that's all just a front – they won't actually attack. By their very nature, opossums are neither aggressive nor destructive, and do not pose a threat to humans. In fact, if the perceived threat continues, they'll either run away or will switch to playing dead or "playing possum," a physiological response that can last anywhere from a few minutes to a few hours. Visit, https://www.wildlifehc.org/in-defense-of-opossums/ for more information!
Michigan has more total shoreline than any state except for this state.
Answer: Alaska! Michigan has 3,300 miles of Great Lakes shoreline, the longest U.S. freshwater coastline. Michigan has more total shoreline than any state except Alaska. Michigan is home to 11,000 inland lakes and tens of thousands of miles of rivers and streams. In Michigan you're never more than 6 miles from a body of water or 85 miles from a Great Lake.
Conservation Districts have been around since the dust bowl, since this year, the Van Buren Conservation District has been working with our local landowners on soil health and water quality throughout our communities.
Answer: 1944! The Van Buren Conservation District has been an official organization since 1944. There are 75 Conservation Districts in the State of Michigan (MACD.org) and over 3,000 across the US (NACD.org). Conservation Districts started during The Dust Bowl to help landowners keep sediment on their land and out of the air and nearby waterways. Watch Ken Burns, The Dust Bowl, to learn more about one of the biggest ecological disaster in America's history; http://www.pbs.org/kenburns/dustbowl/.
If you want more Conservation Jeopardy join us on Earth Day, Wednesday, April 22. Frequent our Facebook page for updates on how you can be a contestant!